Anti-Inflammatory Molecular Repair Cream
Regular price
Sale price
$76.00 USD
Unit price
per
Sale
Sold out
Specifically formulated to combat daily environmental damage while reducing inflammation. Designed with an array of specific cannabinoids, carotenoids, and antioxidants to include Cannabigerol, Astaxanthin, Veri-te™ Aqua Resveratrol, Retinol, and Hyaluronic Acid. This nighttime cream reduces puffiness and restores hydration while creating firmness and visible radiance.
A combination of carotenoids and polyphenols designed to repair the effects of daily environmental exposure.
Cannabinoids for antioxidation, anti-inflammatory and anti-bacterial
Astaxanthin to repair DNA damage and hyperpigmentation
Retinol to increase skin cell turnover
Veri-Te™ Aqua Resveratrol for improved skin elasticity and hydration
Hyaluronic Acid for skin structure and hydration
Orai-BC for polyphenols and polymeric anthocyanins
Shipping & Returns

Shipping: Free shipping on all orders in the US.

30-Day Money Back Guarantee: We want you to be 100% satisfied with your purchase, and stand by the quality of our products. See our 30-Day Money Back Guarantee.
Share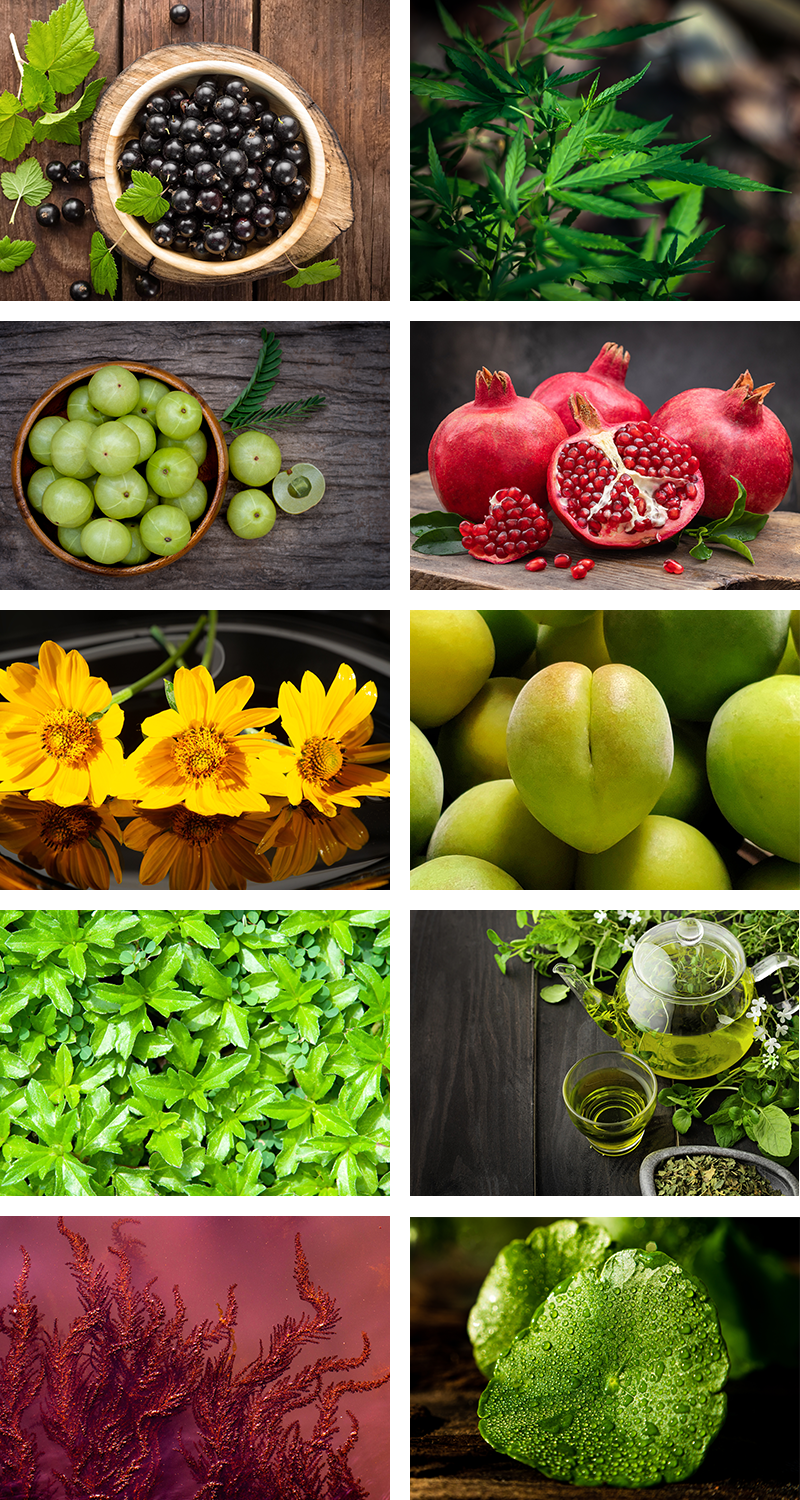 Ingredients
The Anti-Inflammatory Molecular Repair Cream ingredients consist of a full spectrum of cannabinoids, anti-inflammatories, carotenoids, polyphenols, antioxidants, and over 70 trace minerals. This advanced anti-aging cream fights visible signs of glycation while reducing daily environmental inflammatory stressors. They are designed to improve the DNA repair capacity of cells exposed to UV radiation and minimize damage while reducing the appearance of skin creping and thinning.
Vegetable Glycerin

VEGETABLE GLYCERIN

Vegetable glycerin may lead to better skin health by helping soothe skin irritation, protect against infection and promote wound healing. Studies show that applying glycerin-containing products may protect your skin against irritants and microbes, as well as soothe inflamed or wounded skin.

Jojoba Oil

JOJOBA OIL

Jojoba oil hydrates, softens, and smoothes the skin while balancing natural oil production. It delivers antioxidant protection and can help reduce acne.

Squalane

SQUALANE

Squalene is a colorless poly-unsaturated hydrocarbon liquid that's found naturally in many animals and plants, including human sebum. Essentially, it's one of the many natural lipids your body produces to lubricate and protect your skin.

Camellia Sinensis Leaf Extract

CAMELLIA SINENSIS LEAF EXTRACT

It is used for good skin health and possesses anti-aging, anti-inflammatory, antibacterial and astringent properties. Camellia Sinensis also aids-in skin hydration and its white tea variety is beneficial for acne-prone skin.

Arnica Extract

ARNICA EXTRACT

Extracted from the dried flowers of the arnica plant, Arnica Extract is known for its wound healing, antiseptic, anti-inflammatory, and pain relieving properties. Arnica stimulates circulation, speeding up the healing of skin and easing pain caused by inflammation.

Coconut Oil

COCONUT OIL

Coconut oil can be an effective moisturizer and aid in the treatment of dry skin and eczema.

Mango Butter

MANGO BUTTER

Similar to cocoa butter, mango butter is an effective moisturizer and may help soften your skin. The abundance of Vitamin E and Vitamin C in mangos may help protect your skin from environmental stressors like sunlight, pollution, and even blue light from screens.

Cannabigerol

CANNABIGEROL

Called the "Mother of All Cannabinoids", is great for dry skin as it has shown great promise in retaining moisture levels and helps keep the skin moisturized by generating a protective file on the skin's surface. CBG helps with dry skin, breakout, reduces transepidermal water loss, and functions as a powerful antioxidant which helps fend off free radicals that can cause premature skin aging. It is an antibacterial that helps reduce and soothe acne and other skin inflammations. CBG is proven effective as protective agents in neuroinflammatory disorders, and their anti-inflammatory and immunomodulating effects have also proven beneficial in inflammatory skin disorders.

Niacinamide

NIACINAMIDE

Niacinamide (vitamin B3) is a stable vitamin that offers a wide range of well-documented topical benefits. Usually, it is applied to the skin for treating acne, eczema and other skin conditions. Niacinamide is one of the best studied cosmeceuticals for anti-aging. It has a multitude of effects to help smoothen the skin texture.

Cucumber Essence

CUCUMBER ESSENCE

Cucumber extract hydrates and soothes the skin. Its refreshing properties can reduce puffiness and relieve itching, as well as help to ease redness – for example sunburn. Cucumber extract is suitable for all skin types.

Kakadu Plum Extract

KAKADU PLUM EXTRACT

Being a rich source of Vitamin C, kakadu plums form an important ingredient in many of the skin care creams, masks and lotions. Using it makes your skin glow naturally. it acts against the free radicals formed on your skin and protects your skin from the harmful effects done by them.

Cucumber Fruit Extract

CUCUMBER FRUIT EXTRACT

Cucumber Extract is a widely known treatment for sunburn because it has a cooling effect on skin, reducing pain from a bad burn. It's also an antioxidant and is useful for treating inflammation and irritation.  It contains contains phytochemicals that are considered anti-inflammatory. With their combination of vitamins including C and K, cucumbers are excellent warriors when it comes to battling free radicals and even acne, allowing your skin to cool off, de-puff, and clear up.

Cannabidiol

CANNABIDIOL

CBD known for its healing properties, CBD offers serious antioxidant and anti-inflammatory benefits which is helpful in treating skin concerns such as inflammation, dryness, and free radicals. CBD is also effective in fighting acne as it helps reduce the production of sebum in the skin. Multiple studies also suggests that CBD is effective in treating eczema and psoriasis.

Colloidal Oatmeal

COLLOIDAL OATMEAL

Colloidal oatmeal is made by grinding oat grain, or Avena sativa, into a fine powder. It's considered an emollient — a substance that softens or soothes the skin — because it packs fats, proteins, vitamins, minerals, and other nutrients shown to benefit the skin.

Retinol

RETINOL

Retinol exfoliates the skin, increases skin cell turnover, and stimulates collagen synthesis. It is considered the gold standard for its anti-aging and skin clearing benefits. It is readily absorbed from the surface of the skin when applied topically.

Gotu Kola Extract

GOTU KOLA EXTRACT

Gotu kola is also known to repair veins on your skin. That's because it can penetrate into the deep layers, and show its benefits. It is so effective that it is widely used as a treatment for varicose veins, and helps to break down cellulite by shrinking connective tissues that bind fat cells under the skin.

Fulvic Acid Trace Mineral Complex

FULVIC ACID TRACE MINERAL COMPLEX

Fulvic Acid Trace Minerals are naturally derived elements that come from decomposed organic matter. This complex prevents and combats free radical damage and signs of environmental aging. Containing over 70 trace minerals, electrolytes, amino acids, and antioxidants, this helps rejuvenate and moisturize the skin, while decreasing inflammation allowing it to look healthy and radiant. Fulvic Acid is beneficial in minimizing the appearance of pores, infuses vital nutrients and antioxidants to skin cells, and an excellent support for repairing skin damage from injuries and burns.

Hyaluronic Acid

HYALURONIC ACID

Hyaluronic acid (HA) is a naturally occurring glycosaminoglycan found throughout the body's connective tissue. Glycosaminoglycans are simply long unbranched carbohydrates, or sugars, called polysaccharides. HA is the main component of what gives our skin structure, and is responsible for that plump and hydrated look. Hyaluronic Acid has great effects to our skin as it is deemed to help with anti-aging, moisturizing, wound healing, anti-wrinkle, and increased skin elasticity.

Veri-Te™ Aqua Resveratrol

Veri-Te™ AQUA RESVERATROL

Veri-te Aqua Resveratrol is delivered via the Aqua Nova micelle based technology creating substantially higher bioavailability. Resveratrol is a powerful and scientifically backed ingredient that can help rejuvenate and energize the skin. Research suggests that topically applied creams and serums with Resveratrol help reduce the intensity of age spots, improve skin elasticity and hydration, and protect against oxidative damage.

Cannabichromene

CANNABICHROMENE

A promising ingredient for skincare because it provides several benefits such as having antibacterial properties. Studies show how its chemical compound has successfully destroyed fungi and bacteria, which can lead to reduction of skin infections. CBC also has anti-inflammatory properties which can reduce the amount of swelling on the skin.

AstaReal® Astaxanthin Clear 100

AstaReal® ASTAXANTHIN CLEAR 100

Astaxanthin is the most powerful antioxidant known to science, and has the ability to improve the health and radiance of the skin by protecting and supporting all its layers. Astaxanthin protects our skin from UV rays, repairs DNA damage and may slow down the growth of skin cancer cells. Having the capacity to ward off wrinkles, protect the skin against hyperpigmentation, moisturize and hydrate the skin, and fight free radicals, this carotinoid plays many roles.

Cannabinol

CANNABINOL

CBN is proven to be a powerful anti-inflammatory and antibacterial which eliminates issues such as acne. It is best for anyone who suffers irritation, redness, and rough skin that comes with Psoriasis. Due to its powerful anti-inflammatory properties, CBN works together with CBD to alleviate inflamed, angry, or imbalanced skin. CBN has been found to reduce the proliferation of keratinocyte, a skin cell that produces keratin.

RGen-P™ Pomegranate Extract

RGen-P™ POMEGRANATE EXTRACT Standardized for 50% Polyphenols

Pomegranate peels hydrate and protects the skin from pollutants and environmental toxins while containing many polyphenols including hydrolyzed tannins called ellagic acid. It also protects the skin from UVB rays and improves hyperpigmentation, acne, signs of aging and wound healing. Polyphenols possess immunomodulatory, anti-inflammatory and antioxidative properties that can prevent a variety of skin orders caused by excessive exposure to solar UV light.

RGen-GT™ Green Tea Extract

RGen-GT™ GREEN TEA EXTRACT Standardized for 90% Polyphenols with 40% EGCG

Green Tea water extract to include 90% polyphenols with 40% EGCG. Polyphenols possess immunomodulatory, anti-inflammatory and antioxidative properties that can prevent a variety of skin orders caused by excessive exposure to solar UV light. Of the 90% polyphenols, 80% are catechins which function as anti-inflammatory and anti-cancer agents, and 40% epigallocatechin gallate (EGCG) that helps with acne and helps your skin look younger.

RGen-OX™ Amla Fruit Extract

RGen-OX™ AMLA FRUIT EXTRACT Standardized for 60% Polyphenols with High ORAC

Amla extract standardized for 60% polyphenols along with bioflavonoids and Vitamin C. Amla is packed with antioxidants and Vitamin C, both of which help in skin brightening and lightening the complexion. Bioflavonoids help the skin to absorb Vitamin C therefore, protecting the skin's natural production of collagen. Bioflavonoids also provide strong antioxidant protection and protection from UV radiation.

Orai-BC™ Organic Blackcurrant Extract

ORGANIC BLACKCURRANT EXTRACT Standardized for 30% Polyphenols with Polymeric Anthocyanins

Organic Blackcurrant extract standardized to 30% polyphenols with polymeric anthocyanins. Blackcurrant extract is rich in fatty acids, which keep the skin firm, hydrated and younger-looking. It also has antioxidants that helps nourish dry and damaged skin, leaving it soft and replenished. Polymeric Anthocyanins protect the skin against UV damage by inactivating free radicals during sun exposure.

Palmitoyl Tripeptide-38

PALMITOYL TRIPEPTIDE-38

Palmitoyl tripeptide-38 is a matrikine-mimetic compound that regulates cell activity, wound repair and collagen tissue remodeling. It stimulates six major constituents of the skin matrix and the dermal-epidermal junction to plump fine lines and boost skin repair.
Additional Information
Complete Ingredient List

Distilled Water, Vegetable Glycerin, Glyceryl Stearate, C12-15 Alkyl Benzoate, PEG-100 Stearate, Jojoba Oil, Sodium Acrylate/Sodium Acryloyldimethyl Taurate Copolymer, Squalane , Stearic Acid, Camellia Sinensis Leaf Extract, Isohexadecane, Arnica Extract, Coconut Oil, Mango Butter, 900mg Cannabigerol, Niacinamide, Cucumber Essence, Caprylyl Glycol, Phenoxyethanol, Kakadu Plum Extract, Cucumber Fruit Extract, 75mg Cannabidiol, Colloidal Oatmeal, Polysorbate 80, Retinol, Gotu Kola Extract, Xanthan Gum, Fulvic Acid Trace Mineral Complex, Hyaluronic Acid, Veri-Te™ Aqua Resveratrol, 15mg Cannabichromene, Palmitoyl Tripeptide-38, AstaReal® Astaxanthin Clear 100, 10mg Cannabinol, RGen-P™ Pomegranate Extract Standardized for 50% Polyphenols, RGen-GT™ Green Tea Extract Standardized for 90% Polyphenols with 40% EGCG, RGen-OX™ Amla Fruit Extract Standardized for 60% Polyphenols with High ORAC, Orai-BC™ Organic Blackcurrant Extract Standardized for 30% Polyphenols with Polymeric Anthocyanins, Hydroxypropyl Cyclodextrin
Certificate of Analysis
How to Use

How to Use: At night after cleansing

Apply a cashew-sized amount of face cream onto the back of your hand. Dab the cream onto your face in small dots. Focus on troubled areas such as the cheeks and forehead. Gently massage the cream into you skin using upward, circular motions. Avoid dragging downward on your skin. Apply the remaining product on your neck using light, gentle upward strokes.
I'm 50 years old and have been using all of Meticulous products for a few months. I have noticed a big change in the texture and firmness of my skin. I also have a nice glow at all times something I thought was impossible at my age.
I love the way this slightly heavier anti aging moisturizer feels it's very soothing, absorbent and goes onto my skin beautifully at night.
I usually don't write reviews but I'm so pleased with all of these products I just had to share.
I am above 60 years young and have tried so many face care products, from the low cost to the rather expensive ones. I have to say I am thrilled to have been introduced to Meticulous Skincare products. I have been using this line for six or so months and will never seek out any other product. It is wonderful to have a product I can truly say is the best I have ever used.
This is a great combination of anti-aging powerhouse ingredients in a luxe moisturizing cream that will lock in hydration. I use this alone on clean skin or over the serum. It is a thick cream but absorbs well and causes absolutely no irritation to my very sensitive skin. In fact, it calms redness and leaves skin soft and supple. I highly recommend this, especially for anyone over 30 and/or with dry, sensitive skin.
I've seen my skin get noticeably softer and smoother after using this moisturizer for a few weeks. Felt good on my skin. It's my new fav face cream!